HIGH QUALITY COMMERCIAL PRINTING IS THE CORE OF OUR BUSINESS.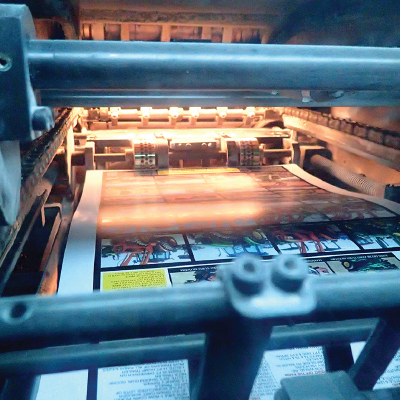 Trust the color experts at The Voom Group to execute your commercial offset printing needs with outstanding results, on time, and on budget. With our direct to press technology, we have a highly automated production process for the fastest make readies, with stunning quality. Your job can go from computer screen to the first printed sheet in as little as 12 minutes, with incredible accuracy.
Since our plates are imaged directly on the press, every job prints in perfect registration. This also allows the press to pre-program all of the ink settings so that your job is in register and color accurate within the first 30 sheets of setup. We waste less paper and use far fewer harmful chemicals in the process. Less waste, more accuracy, and tighter tolerances are a win-win for our customers and our environment.
We print up to 300 line screen for the best quality and offer stochastic screening as well. Check with your representative to see what options will work best for your job.
Visit our online store - Voom Express to see some of the offset printed products we have available online and visit our Print Management page to learn more about how Voom can help your company manage your print more effectively.
Typical Offset Printed Products
Brochures

Booklets

Bookmarks

Business Cards

Calenders

Carbonless Forms

Catalogs

Coupons

Door Hangers
Envelopes

Flyers

Greeting Cards

Invitations & Announcments

Labels

Letterheads

Marketing Collateral

Menus

Note Cards
Newsletters

Packaging

Post Cards

Posters

Presentation Folders

Programs

Rack Cards

Sales Sheets

Table Tents
Just Ask Voom!
No matter what your commercial printing needs, we have a solution for you.